Why UAC® Custom Rolled® Aluminum Coil?
Learn how UAC®Custom Rolled® Aluminum Coil can make a difference and improve yields
Order the gauge you need. You are not limited to "stock" gauges. Using the lightest gauge possible improves your yields. Because every order of Aluminum is Custom Rolled® to your exact gauge requirements, Custom Rolled® means more parts per pound!
Increase Production Speed
Consistency and close tolerance. That's what today's high-speed equipment demands for profitable aluminum part production. United Aluminum's Sendzimir mills deliver you the closest gauge tolerances possible, to 1/4 commercial.
Increase machine speed and throughput
Minimize machine downtime and adjustments
Extend tool life
Produce difficult parts with ease!
Make Money
How can you MAKE money with Custom Rolled® Aluminum Coil? Consider the savings if you:
Produce more aluminum parts per pound
Increase production speeds and rely on the tightest tolerance and most consistent rolled aluminum coils
Reduce downtime and adjustments
Order any quantity and get the same level of service United Aluminum's customers expect
Don't buy minimum aluminum coil quantities you don't need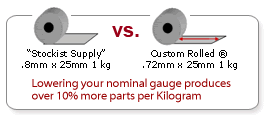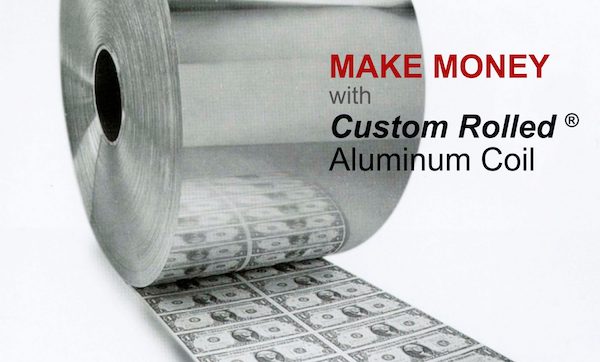 Custom Finishes
Wide variety of rolled surfaces available, from 2 sides bright to matte.
Z-Mill Standard: 3-6 microinches typical Ra, brighter than a conventional 4-Hi rolled surface.
Bright (one or two sides): 1-2 microinches typical Ra.
Matte: 12-16 micro inches typical Ra.
Custom surfaces are available. Please inquire.